CNCHK-10 Gluing Machine (Roll Coater ) Roll Coating Machine for Foam Bedding Products with Water-Based Adhesive
Product Detail
Video
Product Tags
The roll coating /gluing machine can automatically check the foam thickness to adjust the working height of roller. It will apply the water-based glue on the foam evenly, efficiently, and also reduce glue consumption (50-60g per square meter).
One simple gluing line for foam mattress production includes free roller table for feeding, gluing machine, conveyor table for operators to assemble the mattresses after gluing, then press machine and output conveyor.
It also can be upgraded to fully automatic foam mattress production line, by adding auto grabbing device for feeding, IR oven for reducing drying time, auto assemble unit to replace manual operation, press machine, trimming machine to cut into mattress size, conveyor table for removing scrap after trimming, equipment for inner cover, conveyor tables for QC station, stacking unit and storage rack before package, which saves time and man-power.
Gluing machine production line can also be connected with CNC contour cutting machine and slicing machines, the who production line can be designed and built according to customer's production requirement. Now it's been widely used for mattress production.
● High efficient.
● Automatic glue supply.
● Adjustable width for glue application reduces glue consumption.
● Foam thickness can be detected by sensors, and roller will go up/down automatically.
● It can be upgraded to an automatic mattress production.
● Automatic measuring system for foam thickness and length.
● Super high precision stainless steel roller.
● Automatic glue supply device
● Optional manual and automatic operation
● It can be upgraded to automatic mattress production line by adding press machine, trimming machine, conveyor and stacking unit etc.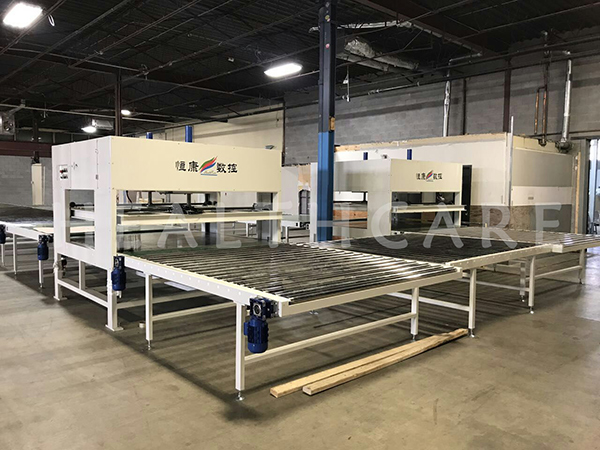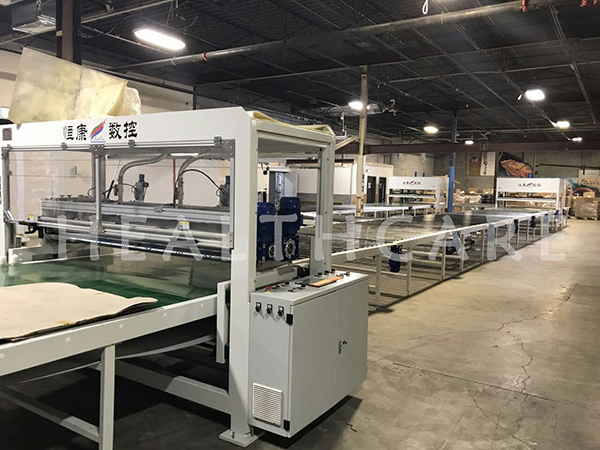 ---
Previous:
CNCHK-10.1 Hot-Melt Gluing Machine Gluing Machine for both Spring Mattress and Foam Mattress Production with Hot-Melt Glue
---